Obsidian Business Address Service is one of the services that we offer as a part of our Virtual Office, it allows you to have a high profile, reputable CH1 address in Chester, at the fraction of the cost to rent or buy an office in the area. 
With a Virtual Receptionist you can enjoy a professional address without worrying about the personal security concerns associated with running a business from your own home.  A Business Address can be used for accepting, sending and forwarding mail.  In addition your clients have a place that they can meet you or drop in on the off chance you are available, as many people often do!  Your Virtual Receptionist is not just there to receive your mail but also your clients on your behalf leaving you available to focus on the more important aspects of running your business. 
In conclusion, a Business Address allows you to give your business a bigger, more reputable image, therefore giving you an edge against your larger competitors.  Once you are using the service, you can use the address as your registered business address on Companies House and throughout your branding.  Start growing into the business you want to be. 
You can sign up for our service by calling 01244 394 200, emailing enquiries@obsidiangroup.net us or simply by filling in the contact form at the bottom of this page.
Before you can use the service please be aware you need to provide us with a proof of address and proof of ID, without these documents we will not be able to provide the service to you.
If you sign up for our Business Address, this does not include the use of our telephone number. Our Business Plus Service offers a combined package of both Business Address and Telephone Answering Service.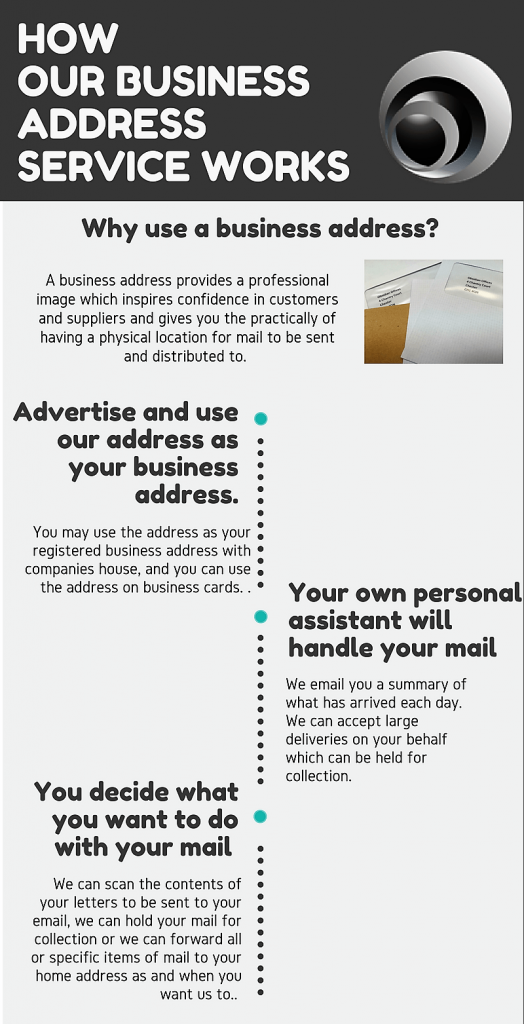 Whether you are a local, national or even an international client of ours; your own Virtual Receptionist will handle your mail however best to suits your needs. Our mail forwarding facilities are both reliable and efficient.
We can accept large or small deliveries on your behalf, which can be held for collection.
Many of our clients have their mail forwarded to them, whereas others prefer to have it held for collection and inform them of the details via E-Mail. We can also scan the contents of your mail to you if preferred.
Give your Business the Professional Image it Deserves
There's no such thing as a standard company – every organisation is different. Obsidian will work with you to maximise your companies' potential and we are here to give you peace of mind and consistent performance for all your company needs.
An advantage of having a Business Address is that you may find it easier to set up accounts with suppliers, so you can receive the equipment, support and services that you require to conduct your business. A Business Address is perfect for a Start-up company, it provides the ideal image, inspires confidence in customers and suppliers and gives you the practicality of have a physical location for mail to be sent and distributed to.
"Obsidian Offices came highly recommended to us when we were looking for new premises and they have certainly proved their mettle. The well maintained facilities are modern and welcoming and we are very happy with the services provided by the staff, who are efficient and friendly. With IT services and meeting rooms in the building, what more could we ask for?"
"From welcoming our guests to handling our calls, the service we have received over the years from Obsidian has been efficient, friendly and nothing short of superb. We have recommended their services – ideal for both established businesses and for start ups – to many of our clients."
"We were initially wary of the transition from in-house telephone answering to another party, but our fears quickly subsided once the service started. It has proved to be the best move that we ever did. The service is exemplary, our customers are happy with being able to leave a message or log a call with the sure knowledge that it will be dealt with properly and professionally"
"The facilities are excellent and professional; I would definitely recommend them for training or meetings. The team have always been first class, personable and friendly."
"This is the best virtual service I've ever used. The staff are always helpful and courteous to my clients and always go the extra mile to provide thorough and useful messages to myself. This has definitely led to a more successful business and a higher rate of securing appointments."
"We are very pleased with the service that Obsidian Offices provides. The staff are very professional, helpful and friendly. The meeting rooms themselves are very comfortable and quiet. I would have no hesitation in recommending Obsidian Offices to any business and I am happy to give them 5 stars."
Find the Right Package for Your Company
Business Address
Mail held for collection
Business Address
with Mail Forwarding
Answering Service
Telephone Answering Only
Business Plus
Combined Package
Business Plus
with Mail Forwarding
How is A Business Address Service different to a PO Box?
Our Business Address Service looks more professional than a PO Box and gives your clients the impression that your business has a physical office location which gives you the outward appearance of stability, permanency and attributes that prospective customers will find reassuring and in turn make them more likely to choose you to do business with.
Contact the Obsidian Team
Obsidian...
Flexible
Expanding
Community
Service
Professional
Limitless
To become the most service focused Business Centre in the North West we use our skill sets to provide tailored, client focused solutions in a timely manner by investing in our team and clients.  Using continuous feedback we ensure a dependable, customer orientated working environment.  As a team we strive to exceed client expectation through our first class customer service and flexible business solutions.
At Obsidian Offices, our vision is to be a serviced focused Business Centre with flexible solutions. This enables businesses to reach their full potential by utilising our dependable, client orientated and professional environment.